Fantasy Points Per Week:
NIPP – 1087
, PF – 917
Fantasy Points Per Game: NIPP – 31.8, PF – 28.3
Games In Week One: NIPP – 33, PF – 37
Projected Games in Week Two: NIPP – 35, PF – 37
Personnel Notes:
NIPP – Jimmy Butler (Day to day), Shelvin Mack (Added 2/28/16)
PF –
Kristaps Porzingis
(Day to day), Danilo Gallinari (Out one month to Season), Kobe Bryant (Day to day), Mike Conley (day to day)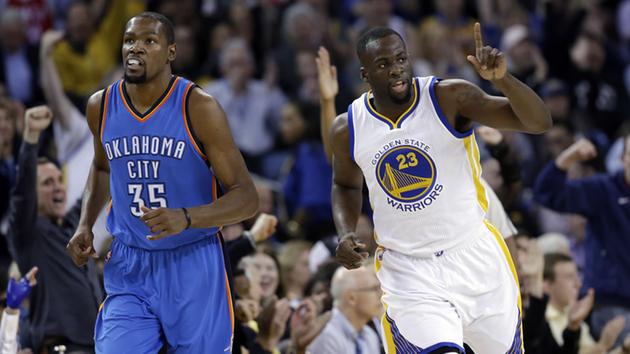 The next step won't be so easy.
The excitement just keeps coming. The best season in franchise history for either team, two dominate playoff victories, two of the strongest team identities in the league, and that's just so far. So who gets to go to the finals for the first time?
In one corner, we have this season's highest scoring Point Guard, Small Forward and Center all on the same team. In the other corner, we have a squad containing 12 players averaging 25+ fppg in their last 30. Team nipple has a strong supporting cast around their Big Three. In fact, Milsap, Butler, and Gannis give this team more of a Big Six vibe. Meanwhile, even though Por Favors leads the league in 25+ guys, only one of those 12 players is averaging 35+ (Melo).
So let's see if we can find some sort of bottom line here. Going off of last 30s, Team nipple's entire squad is averaging 28.9 fppg, while their bet 10 guys are averaging 35.0 fppg. Meanwhile, Por Favors' coinciding numbers are 27.7 fppg and 30.7 fppg. So, depending on how much you think the bench matters, Chris's point producing advantage lies somewhere between 4 and 1 point per game. That range is rather large actually; it means the difference between a 300 point victory and a coin-flip finish.
Another way we can see the bench coming into play here is in the game advantage. Despite Gallinari, Kobe, and Conley all sporting red letters on the Por Favors bench, Nathaniel was still able to grab a pretty sizable game advantage. This tilts the scales to just about even, with Team nipple projected to score 2162 and Por Favor projected to score 2094. That's just about as close as they come.
Should I tie up most of my money in keeping my stars? How valuable is a strong bench? Is streaming a viable option in this league?
How this all plays out will give us insight into a lot of burning questions and maybe even define a new meta game for this league as a whole. I can't wait.
Last round, Por Favors threw up a very impressive 2096 while Team nipple totaled a slightly more impressive 2342. While it seems like those numbers might easily be swapped after two weeks, I will only believe it when I see it. I'm not betting against a team with five 40+ guys.